September 2020
| Mon | Tue | Wed | Thu | Fri | Sat | Sun |
| --- | --- | --- | --- | --- | --- | --- |
| | 1 | 2 | 3 | 4 | 5 | 6 |
| 7 | 8 | 9 | 10 | 11 | 12 | 13 |
| 14 | 15 | 16 | 17 | 18 | 19 | 20 |
| 21 | 22 | 23 | 24 | 25 | 26 | 27 |
| 28 | 29 | 30 | | | | |
Calendar
Hi I am a new member to this forum and about 3 weeks ago adopted a 10 month old Shih Tzu named Rosie, she is very dominant and a barker which I am trying to curb.  She was living in a flat with her mum and 2 kittens.  I have a 2 year old tri cavalier named Ellie May and I am hoping that Rosie and her will become like sisters, already there is a bond forming and Ellie has started to retaliate with a growl if Rosie gets to hectic with the nipping.  I have never owned a Shih Tzu before but I am already loving Rosie she is such a character and actress so have to be firm with her as we take our Ellie on dog friendly holidays and unless we can curb the barking won't beable to take Rosie to hotels or B&B's, she is coming with us on a cottage holiday in Sept though.  I work part-time however I do have a lady come in at lunch times to take them both out.  I have had to get her groomed back to basics as she was very knotted and tangled, she looks like a little shorn lamb now bless her and she does have a faulty eye whereas it shows up the whites around it.  I would like any tips on barking, I have tried water spray, whistle, firm be quiet and ignoring the barking especially at bed time I might add that she is improving loads as her confidence has grown.  I also belong to the CKC forum, I think it is going to take me a while to fathom out how to work my way around this forum lol.  Look forward to reading your posts.
Hello Rosiebrown and a warm welcome to Whispers. I have two Shih Tzu's both girls. Mali is the eldest and 6 years of age and Tasha will be 5 next month.Mali is very quiet in the barking dept but Tasha can be very vocal more so we have noticed with men lately. The only other thing you could try is filling a can with a few stones/chippings and rattle it when she barks this may help. We don't take our dogs away with us, they go to their own Doggy Hotel which they love. I would like to try and take them for a couple of nights to see how they would be, we might in the Winter when there are not many people around. As you haven't had her very long and you say her confidence is growing I think she will become more settled and quieten down. WE love photo's on here so if you need help there is a link to putting them on in the menu bar on the left hand side or just ask and someone will help.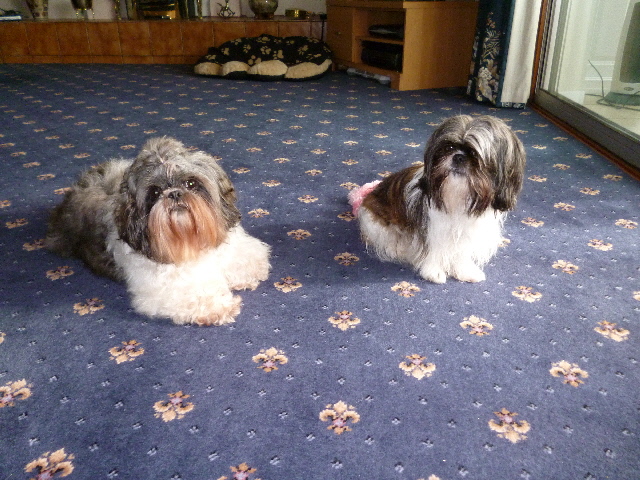 " />
Hi Joyce and welcome to the forum, it's great to have you here. We are a very friendly and chatty bunch of shih tzu owners and love chatting about their antics, and believe me as you get to know Rosie, you will realise some of the things they can get up to. If there is any mischief about, I bet Rosie will be right in the middle of it.
At the minute she is just a baby and it must be really frightening for her to have moved homes and lost her mum as well, so while she is settling I wouldn't be too worried, but obviously she needs to learn your rules. Hopefully she will learn a lot from Ellie.
As Carol says we love to see photos, so feel free to upload some for us to see.

sujay

Supreme Champion





Registration date :

2009-07-19


Number of posts

: 2636


Age

: 60


Location

: Swansea


Points :

2950



If once she has had time to settle the barking is still a problem then a can of stones should sort it out. There is a thread on here telling how to do it. If you can't find it I will put it on when I get chance. I am away at the moment. If she is barking for attention ignoring is best if she is barking at noise then she'll settle down once she gets used to everyday sounds in your locality. Welcome to the forum Btw x
_________________
Hello, 
 No advice on the barking from me. Just wanted to say hello from me and Ellie. Hope to see some pics of Rosie (and your Ellie)!

EvonneSB

Graduate





Registration date :

2013-01-10


Number of posts

: 168


Age

: 39


Location

: Dundee


Points :

200



Hi and welcome from us too, I have a Rosie too, she is nine months x

Michele

Best In Show





Registration date :

2008-10-06


Number of posts

: 1938


Age

: 58


Location

: Oxford


Points :

1933



Similar topics
---
Permissions in this forum:
You
cannot
reply to topics in this forum